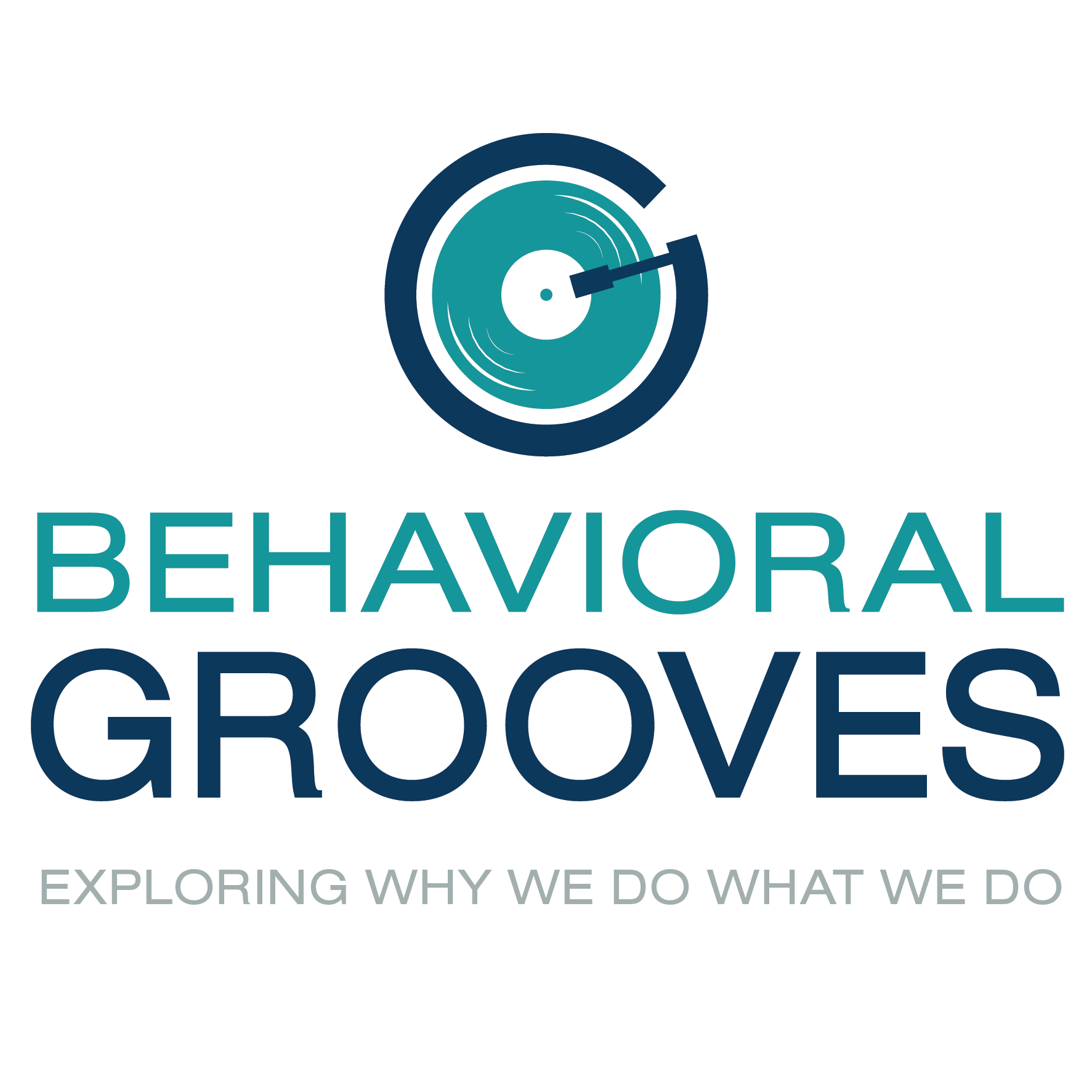 Stories, science and secrets from the world's brightest thought-leaders. Behavioral Grooves is the podcast that satisfies your curiosity of why we do what we do. Explanations of human behavior that will improve your relationships, your wellbeing, and your organization by helping you find your groove.
Episodes
Sunday May 07, 2023
Sunday May 07, 2023
Earning your 10th cup of coffee for free isn't nearly as satisfying as being randomly awarded a free coffee from your barista. These uncertain rewards are a genius way of enforcing new habits, which our guest Richard Shotton outlines in his fantastic new book.
In fact, Richard's book "The Illusion of Choice: 16 ½ psychological biases that influence what we buy" is a treasure trove of research and anecdotes which bridge the gap between the very technical world of academia and the "wild" application of behavioral science in real world marketing.
Kurt and Tim don't delve into all 16 ½ psychological biases from the book, but their conversation with Richard jumps into some fascinating topics. Among them are the seemingly contradictory chapters in Richard's book that are titled "Make It Easy" and "Make It Difficult". So which is it - should we add or remove friction to products? In fact, it's both! And (as we love to say on Behavioral Grooves) it depends on the context and ultimately what your marketing goal is.
"You've got to be very clear about what is the barrier, or what is the problem you are trying to resolve as a marketer. And once you're clear about that, then it's easy to match the right behavioral science experiment, and therefore the right recommendation to that problem."
We discuss the power of simple, concrete language; why we perceive precise numbers to be more accurate; and how authoritarian language can discourage customers, employees and possibly citizens.
As mentioned in the show, we were recently honored to be awarded the 2023 Behavioral Science Podcast of the Year by GAABS. Thank you to the wonderful team at GAABS, and all our listeners who made this possible, we really appreciate your ongoing support.
Topics 
(5:33) Welcome and speed round question.
(7:57) Why randomly being awarded a coffee is so satisfying. 
(13:00) Closing the gap between academia and applied behavioral science.
(15:12) The power of concrete over abstract words.
(20:48) Breaking prices down to unit price is perceived as better value.
(24:32) How precise pricing increases the acceptance rate.
(28:38) Why simple language is so important.
(33:40) When is it best to increase friction and when should you remove friction? 
(40:44) Is there actually a replication "crisis" in behavioral science?
(42:48) Authoritarian messages could have a negative effect on customers and employees.
(47:36) What musical artists would Richard take to a desert island?
(52:20) Grooving Session with Kurt and Tim on Richard's work.
© 2023 Behavioral Grooves
Links 
GAABS: https://gaabs.org/ 
Richard Shotton's book "The Illusion of Choice: 16 ½ psychological biases that influence what we buy": https://amzn.to/3LxOCs5 
Astroten: https://www.astroten.co.uk/ 
Dishoom restaurant: https://www.dishoom.com/ 
Ian Begg (1972)  "Recall of meaningful phrases", Journal of Verbal Learning and Verbal Behaviour: https://www.sciencedirect.com/science/article/abs/pii/S0022537172800240 
Robert Schindler & Richard Yalch (2006), "It Seems Factual, But Is It? Effects of Using Sharp versus Round Numbers in Advertising Claims" Advances in Consumer Research: https://www.researchgate.net/publication/279544736_It_Seems_Factual_But_Is_It_Effects_of_Using_Sharp_versus_Round_Numbers_in_Advertising_Claims 
Episode 64, Danny Oppenheimer: Governance and Helicopter Parenting: https://behavioralgrooves.com/episode/danny-oppenheimer-governance-and-helicopter-parenting/  
Daniel Oppenheimer (2006) "Consequences of Erudite Vernacular Utilized Irrespective of Necessity: Problems with Using Long Words Needlessly" Applied Cognitive Psychology: https://www.researchgate.net/publication/227513726_Consequences_of_erudite_vernacular_utilized_irrespective_of_necessity_Problems_with_using_long_words_needlessly 
Ig Nobel Prizel: https://en.wikipedia.org/wiki/Ig_Nobel_Prize 
The IKEA effect: https://thedecisionlab.com/biases/ikea-effect#:~:text=The%20IKEA%20effect%2C%20named%20after,expended%20effort%20to%20create%20them. 
Felicia Pratto & Oliver John (1991) "The attention-grabbing power of negative social information": https://www.researchgate.net/publication/21213504_Automatic_Vigilance_The_Attention-Grabbing_Power_of_Negative_Social_Information 
Episode 350, How One Small Word Can Transform Our Motivation, Success And Relationships | Jonah Berger:  https://behavioralgrooves.com/episode/words-can-transform-jonah-berger/ 
Variable Ratio Reinforcement: https://practicalpie.com/variable-ratio-reinforcement/ 
Behavioral Grooves Patreon: https://www.patreon.com/behavioralgrooves
Musical Links 
David Bowie "Starman": https://www.youtube.com/watch?v=tRcPA7Fzebw&pp=ygUTZGF2aWQgYm93aWUgc3Rhcm1hbg%3D%3D 
The Strokes "Last Night": https://www.youtube.com/watch?v=TOypSnKFHrE&pp=ygULdGhlIHN0cm9rZXM%3D 
The Verve "Bitter Sweet Symphony": https://www.youtube.com/watch?v=1lyu1KKwC74&ab_channel=TheVerveVEVO 
The Cure "Pictures Of You": https://www.youtube.com/watch?v=UmFFTkjs-O0&ab_channel=TheCureVEVO 
Wonder Stuff "Don't Let Me Down Gently": https://www.youtube.com/watch?v=SIKUZjc4gVo&ab_channel=TheWonderStuffVEVO 
Stone Roses "I Wanna Be Adored": https://www.youtube.com/watch?v=4D2qcbu26gs&pp=ygULc3RvbmUgcm9zZXM%3D 
John Prine "I Remember Everything":  https://www.youtube.com/watch?v=Ww1SenQwaMg 
Public Enemy "Fight The Power": https://www.youtube.com/watch?v=2WHe5fxS3dA&ab_channel=UPROXXVideo