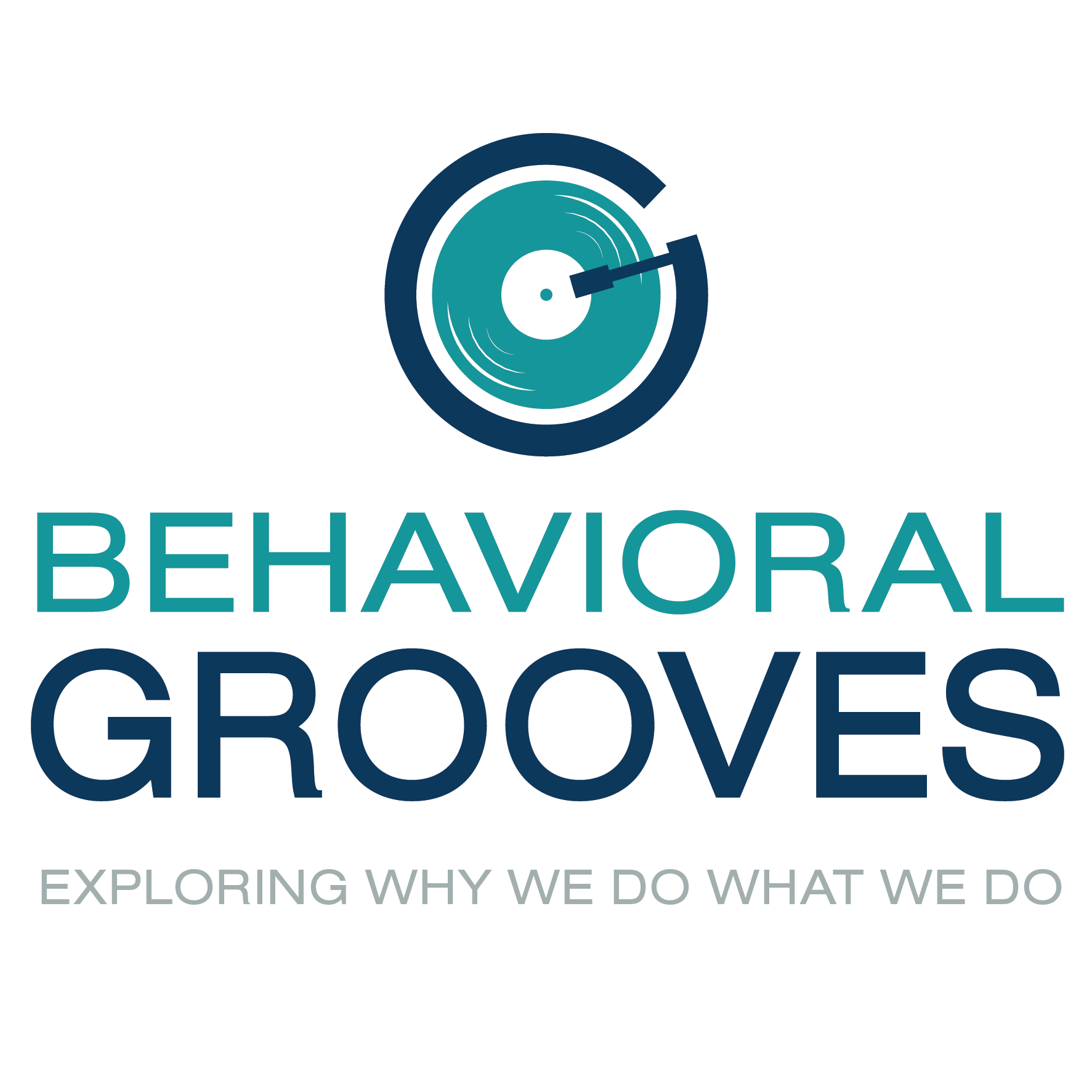 Stories, science and secrets from the world's brightest thought-leaders. Behavioral Grooves is the podcast that satisfies your curiosity of why we do what we do. Explanations of human behavior that will improve your relationships, your wellbeing, and your organization by helping you find your groove.
Episodes
Sunday Mar 17, 2019
Sunday Mar 17, 2019
In this episode, we had the pleasure of speaking with two guests: Jeanie Whinghter, PhD and Afra Ahmad, PhD. Jeanie is the Chair of Industrial and Organizational Psychology and General Psychology at Capella University. Her research focuses on the manifestations of stressors and strains in alternative work arrangements and was in Memphis when we spoke.  Afra was in Dubai at Zayed University but will begin a new role in the summer of 2019 as Director of the Masters in Professional Studies in Applied Industrial and Organizational Psychology at George Mason University. Her research emphasizes diversity and inclusion and she has been authored chapters in books, published in Harvard Business Review, as well as in peer-reviewed journals.
Both are researchers, teachers, wives, mothers and truly fascinating people. We were grateful to be able to speak to them in advance the SIOP – the Society for Industrial and Organizational Psychology – conference in April 2019. At the conference, they'll unveil an interactive workshop to illuminate the challenges of trying to "have it all." Inspired by a satirical article in The New Yorker magazine (citation below), the idea of having it all has plagued women, especially, who strive to be successful at parenting and a career at the same time. Jeanie and Afra are advocating an approach that focuses on harmony rather than balance.
Our conversation first centered around their research and revealed insights for those struggling to have it all. More timely, we discussed their SIOP session.
After the formal discussion, with the tape still rolling, we talked in greater depth about their unique, interactive structure for their SIOP session and how surprising it is that more conferences don't feature non-traditional, participant engagement sessions.
To learn more about the SIOP session itself, listen to our grooving session which immediately follows the discussion with Jeanie and Afra. If you'd like to skip straight there, check out the discussion starting around 51:40. There we also tackled the concepts of work-life harmony and the importance of allies.
Our grooving session continued with the challenges nursing mothers face when no nursing rooms exist. And we talked about the use of harmony is songwriting. 

Select Links
Jeanie Whinghter, PhD: https://www.linkedin.com/in/jeanie-whinghter-b303a9148/
Afra Ahmad, PhD: https://www.linkedin.com/in/dr-afra-saeed-ahmad-35229070/ 
SIOP – Society for Industry & Organizational Psychology: https://www.siop.org/
Inspiration for the workshop from this article in The New Yorker: https://www.newyorker.com/humor/daily-shouts/i-am-the-one-woman-who-has-it-all
Jeff Bezos on Work/Life Balance: https://www.businessinsider.com/jeff-bezo-advice-to-amazon-employees-dont-aim-for-work-life-balance-its-a-circle-2018-4
Jeff Bezos on Harmony vs. Balance: https://www.cnbc.com/2018/08/09/what-jeff-bezos-does-instead-of-work-life-balance.html
Leading the Life You Want, by Stuart Friedman, PhD (Wharton Professor) 2014: https://hbr.org/product/leading-the-life-you-want-skills-for-integrating-work-and-life/11343E-KND-ENG
Research on how we always think we do the most work at home by Yavorsky, Dush and Sullivan, especially after a baby comes into the house: "The Production of Inequality: The Gender Division of Labor Across the Transition to Parenthood." https://www.ncbi.nlm.nih.gov/pubmed/26430282
Bentley University's Center for Women in Business (Waltham, Massachusetts) 2017 report: "Men as Allies: Engaging Men to Advance Women in the Workplace." https://www.ceoaction.com/media/1434/bentley-cwb-men-as-allies-research-report-spring-2017.pdf A growing trend.
Baby Shark: https://www.youtube.com/watch?v=XqZsoesa55w
Alicia Keys, Girl on Fire: https://www.youtube.com/watch?v=J91ti_MpdHA
Tim Houlihan, Beneath the Surface of the Well: https://www.youtube.com/watch?v=oNUbRG1yWwM&t=0s&index=41&list=PLagHYhetqqmEEie866Zodn7W4IBlfNwli
Kurt Nelson: @motivationguru and https://www.linkedin.com/in/kurtwnelson/
Tim Houlihan: @THoulihan and https://www.linkedin.com/in/tim-houlihan-b-e/
Subscribe to Behavioral Grooves: https://behavioralgrooves.podbean.com/